Extra Curricular Activities and Partnerships
Extra Curricular Activities and Partnerships
At the Sherborne Family of Schools, we believe in offering our pupils a rich and diverse range of activities that extend beyond the confines of the traditional classroom.
That's why we have established partnerships with professional program operators who bring their unique expertise to cater to the diverse needs and interests of our pupil community.
Through these partnerships, our pupils have the opportunity to explore various avenues, from the culinary arts and immersive role play experiences to showcasing their talents on the national basketball stage. These collaborations open doors to countless opportunities for our pupils to shine and discover their passions, nurturing their holistic development and unlocking their true potential.
Now, as part of our Sherborne family, your child will have access to an exciting array of opportunities to explore their interests and develop their skills.
Welcome to SQ Academies – Sports, a meticulously designed program encompassing Basketball, Football, and Swimming. This initiative is tailored to deliver exceptional extracurricular and enrichment support, ensuring a holistic development for our pupils.
Distinguished Sport Partners:
Future Sports: Our football program, in collaboration with Future Sports, is dedicated to nurturing aspiring players seeking entry into elite football competitions. Delivered by UEFA A licensed coaches, the program covers skill-based development, nutritional sessions, tactical training, strength and conditioning, and video analysis. The curriculum is meticulously crafted for the elite group of players based at Sherborne Qatar.
Trojan Swimming Academy: Partnering with Trojan Swimming Academy, our swimming program aspires to shape the future of young swimming athletes in Doha, Qatar. Founded by two-time Olympian Ahmed Mathlouthi, Trojan Sports Academy is committed to delivering exceptional swimming programs catering to a wide range of interests, abilities, and aspirations.
Fame Basketball: The SQ Academies Basketball program is designed to cultivate elite-level players with genuine prospects of advancing into a professional career in Basketball.
Key Features of SQ Academies – Sports:
Elite Coaching: Our pupils receive guidance from industry-leading coaches, ensuring top-notch training and mentorship.
Bespoke Performance Sessions: Tailored sessions are designed to elevate the performance level of players, providing a personalized approach to skill development.
Premier Competitions: Participation in some of the sports' premier competitions, tournaments, and events across the Middle East and Europe, offering a platform for growth and exposure.
Pathways to Professional Clubs: Strong links with professional clubs create regular opportunities for our athletes to be scouted by both domestic and international teams.
University Pathways: Establishing connections with top-tier universities and scholarship opportunities in the UK and USA, providing diverse pathways for our athletes' future.
Coaching Qualifications: Opportunities for obtaining internationally recognized coaching qualifications and gaining valuable sporting leadership experience.
SQ Academies – Sports is more than a program; it's a journey towards sporting excellence, personal growth, and boundless possibilities. Join us as we nurture the talents of our pupils, empowering them to reach new heights in both sports and life.
KidZania Brand Ambassador Program
Sherborne Qatar is proud to announce its partnership with KidZania Doha as a "Brand Ambassador School," a prestigious program that selects partner schools in Doha.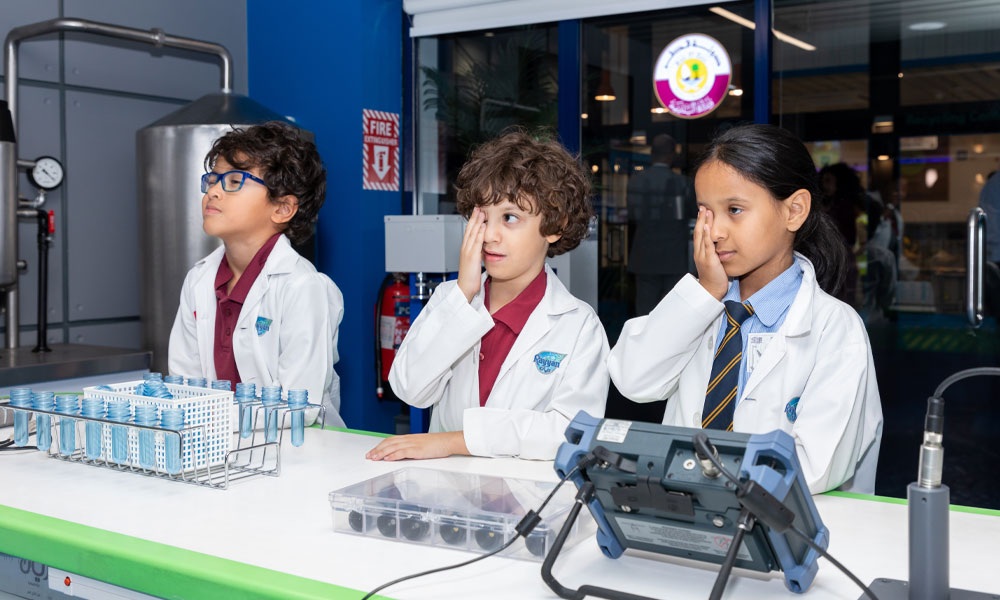 As a "Brand Ambassador School" for pupils following the British National Curriculum, Sherborne Qatar will benefit from hands-on experiences at KidZania, allowing pupils to apply what they learn in the classroom and make learning a more engaging and interactive process. This partnership further reinforces Sherborne's values and Learning Dispositions, as both brands share a commitment to empowering pupils with practical skills and fostering their personal development.
KidZania Doha, known as the "Land of cool kids," provides a unique environment where pupils take on adult roles and explore various professions. Through these role-playing experiences, pupils develop important life skills, financial literacy, and an understanding of governance.
KidZania has carefully studied the Sherborne curriculum for Year 1 to Year 6 and designed activities that align with the curriculum, ensuring a seamless integration of learning. These activities include engaging in Performing Arts to discovering talents and showcase skills, exploring travel through flight simulation and map reading, and learning about ancient Egypt's papermaking process, emphasizing sustainability and recycling.
For Year 1 pupils, activities focus on Performing Arts, allowing them to explore their interests and talents through singing, dancing, storytelling, and more. Year 2 pupils engage in activities centered around travel, using flight simulators and maps to learn about different countries and train as virtual pilots. Year 3 activities delve into ancient Egypt and the art of papermaking, teaching pupils about sustainability and the recycling process. By providing these immersive experiences, KidZania Doha and Sherborne Qatar create a dynamic learning environment that goes beyond textbooks and traditional teaching methods, fostering curiosity, creativity, and a passion for lifelong learning.
Qatar Basketball Federation
The Sherborne Qatar School for Girls has recently established a collaboration with QBF, creating numerous avenues for our girls. Through this partnership, we aim to identify talent, support our pupils' development, and provide them with world-class coaching from Qatar's youth and senior national team head coaches.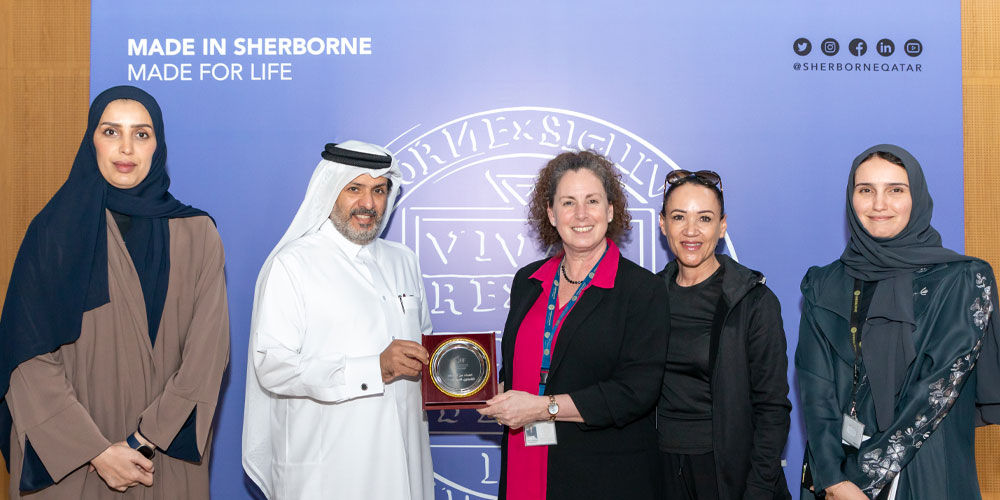 Within this program, our pupils have the privilege of attending regular training sessions at both the girls' school and QBF's dedicated training facility. This dynamic training environment allows them to refine their basketball skills and compete in various events, including our private schools' league and the Schools Olympic Programme.
As the program continues to grow, our pupils will have the opportunity to represent their school and even aim for selection to the prestigious Qatar National Basketball Team.
This comprehensive program combines a variety of martial arts styles, including Kickboxing, Taekwondo, Brazilian Jiu-Jitsu, and Self-Defense (MDS). Through this unique blend, pupils not only acquire fundamental martial arts techniques but also master impressive and intricate moves known as "martial arts tricking."
Engaging in our martial arts program, pupils will witness remarkable improvements in endurance, strength, and overall physical fitness. Moreover, they will gain essential self-defense skills and techniques, ensuring their safety and empowering them with self-protection abilities. By participating in these activities, your children will develop not only physical resilience but also mental fortitude, preparing them for any challenge that comes their way.
The Sherborne Family of Schools proudly partners with BE Rugby to provide exceptional opportunities for our pupils. Through this partnership, we aim to enhance their rugby journey and foster a deep understanding of the sport.
BE Rugby introduces our pupils to a range of games, competitions, and tactical teachings that make the rugby experience enjoyable and enriching. As part of our BE READY Player Pathway, we integrate performance testing and monitoring, empowering our aspiring rugby players to understand their results and follow their individual pathways.
The partnership between Sherborne Family of Schools and BE Rugby nurtures the talents of our pupils, instills a passion for the sport, and supports their holistic development both on and off the field.
Inspiring creativity in the kitchen, our Molecular program is designed to yield delectable outcomes! We cultivate an innovator's mindset among our pupils, encouraging them to explore the realm of cooking with a fresh perspective. Through this program, they discover the art of creating food that not only tantalizes the taste buds with enhanced flavors and satisfaction but also promotes healthier choices, sustainability, and overall well-being.
By introducing an early education in food and diet, we empower our pupils to make informed choices that will positively impact their lives for years to come. Our Molecular program equips them with the knowledge and skills to think critically about culinary possibilities, pushing the boundaries of traditional cooking and embracing a future of delicious, wholesome cuisine.