During the holy month of Ramadan, the spirit of giving and charity shines bright across our Family of Schools. Our pupils wholeheartedly embrace the opportunity to make a positive impact in their community through our Ramadan Charity Events.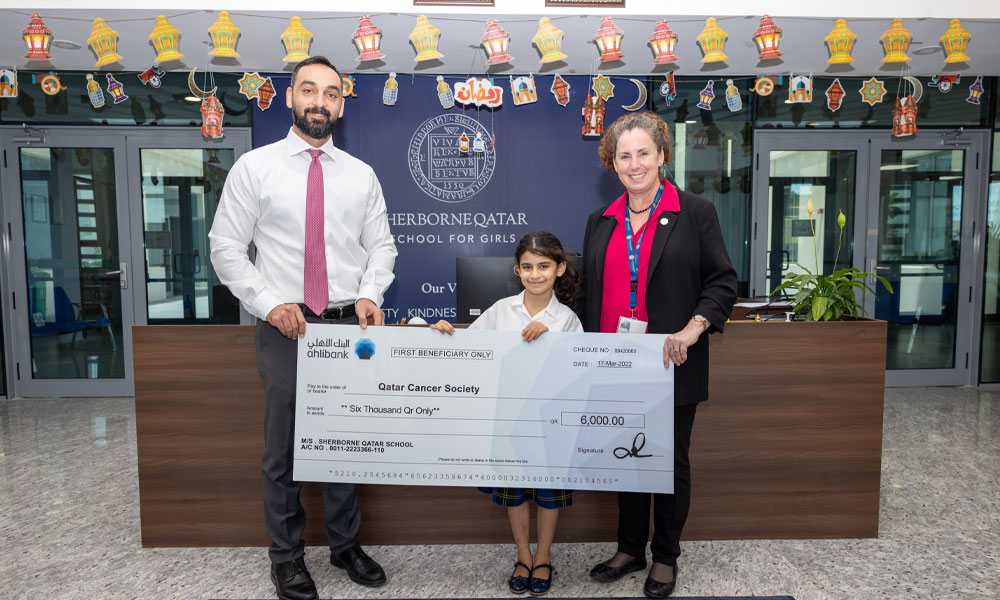 With creativity and compassion, they dedicate their time and talent to craft stunning pieces of art and hand make gift boxes filled with love and care. These unique creations not only showcase their artistic skills but also serve as meaningful gifts for those in need. In addition, our pupils actively raise funds by selling their artwork and diligently collect essential food items and other consumables to support those less fortunate.
As a testament to their efforts, the School for Girls proudly presented a cheque to the Qatar Cancer Society, symbolizing their commitment to making a difference. Through these charitable endeavours, our pupils learn the value of empathy, kindness, and the importance of lending a helping hand to those in need.
Ramadan Charity Events are a cherished tradition that unites our community in spreading joy and hope, and we are immensely proud of our pupils' dedication to making a positive impact.
Educating children in Cambodia
We believe in the transformative power of education and the importance of giving back to the community. That's why we have established a special charity initiative partnering with United World Schools dedicated to providing educational support to pupils in our partner schools in Cambodia.
With a current enrolment of 93 pupils, these schools face various challenges in providing quality education. To make a positive impact, we organize a series of events aimed at raising funds for our partner school in Cambodia.
One recent event, titled "Step up to give," saw two dedicated teachers from our school undertake an incredible feat by running up and down the Aspire Torch Tower 31 times, all in the spirit of raising funds for this noble cause.
Through these efforts, we are fostering a sense of global citizenship and instilling in our own pupils the value of empathy, compassion, and the importance of making a difference in the lives of those who are less fortunate.
At Sherborne Qatar, our commitment to kindness goes beyond being just a value—it is the foundation of our educational philosophy. The Sherborne WAY is centered around instilling the principles of kindness and generosity from the earliest stages of a child's development.
During our Pink and Gold Days held at the Sherborne Family of Schools, our community comes together to embody these principles in a tangible way. Pupils and staff, adorned in shades of pink and gold, generously contribute to support the Qatar Cancer Charity and other charitable causes.
The incredible spirit of giving is truly heartwarming, and we extend our deepest gratitude to our generous parents who make days like these even more special with an abundance of pink and gold treats at the bake sale. Every contribution, big or small, makes a difference, and all proceeds from these initiatives go directly to the Qatar Cancer Charity.
In the Sherborne family, we believe that together, we shine brighter. Join us in fostering a culture of kindness and giving back.