Senior Awards and Recognition
At Sherborne Senior School, we are dedicated to preparing our pupils for exceptional success wherever their journeys may lead. We firmly believe in celebrating their remarkable achievements as an integral part of our pastoral vision.
As the leaders of tomorrow, our pupils' voices matter. That is why our School Council serves as a powerful platform for them to be heard. We value their input and regularly seek their perspectives on how we can enhance their experiences and support their evolving needs. Many of our celebration events are designed "for pupils, by pupils," showcasing their strong voices and fostering a sense of ownership and empowerment.
Among our most prestigious accolades, the "Colours Awards Ceremony" at Sherborne Senior School shines a spotlight on pupils who have displayed exceptional performance, outstanding contributions, and remarkable achievements. It is a remarkable testament to their unwavering dedication and well-deserved success.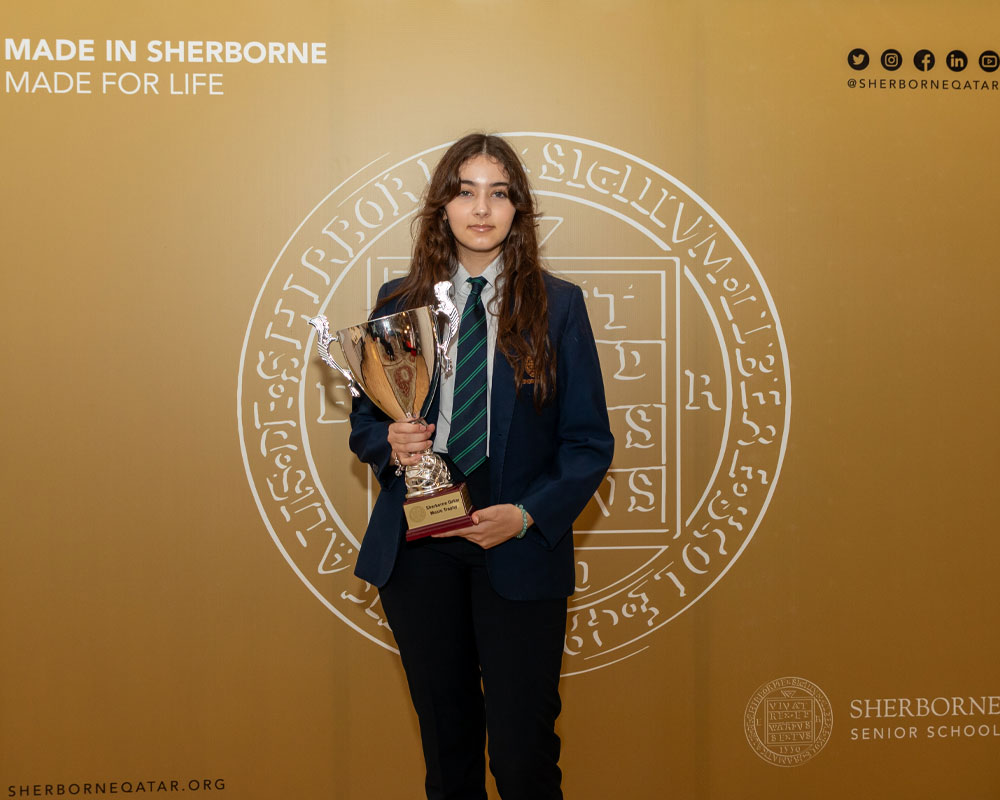 At the Sherborne Qatar School for Girls, the grand "Celebration of Achievement Evening" is a momentous occasion where our girls' extraordinary accomplishments are honored. From progress and effort to creativity and Arabic proficiency, we celebrate their outstanding achievements through various awards. Special prizes, such as the Principal's Prize, Headmistress's Prize, Millionaire Reader, and School Citizen Prizes, recognise their exceptional qualities.
These extraordinary ceremonies come alive with vibrant musical performances by our talented pupils, creating unforgettable memories for both our pupils and their proud parents. We also acknowledge pupils' leadership roles through badges that honour their contributions as leaders, buddies, reading ambassadors, digital leaders, and members of the School Council.
Moreover, our pupils actively engage in national and international competitions, representing our school with distinction. We take immense pride in the recent triumph of Kaitham Al Emadi from Sherborne Qatar School for Girls, who secured the coveted first place in the prestigious Creative Arab Initiative, hosted by the esteemed King Abdulaziz Institute in the Kingdom of Saudi Arabia. This remarkable accomplishment exemplifies the excellence and talent nurtured within our school community.
As our pupils step onto the stage, basking in the melodies of their own musical talents, the applause of their parents, and the resounding support of our entire school community, they embody the spirit of excellence and leadership.
With each stride they take, the Sherborne Qatar family of schools stands alongside them, celebrating their victories, nurturing their growth, and shaping their futures.
Together, we will forge a legacy of greatness, where their remarkable achievements become a beacon of inspiration for generations to come.